No other $1 Trillion sector is undergoing more digital disruption than the financial services sector. Come to NOAH Tel Aviv to meet the stars driving the Fintech digitisation!
Check out the session details below, download our program and get your Invitation code now!
Register Now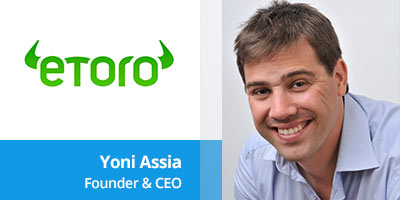 The world's leading social investment network. Tap into the wisdom of the crowds to make smarter investment decisions!
Social Trading is about opening the markets to everyone. At eToro we encourage people to connect with one another to discuss, trade, invest, learn and share knowledge across the network. From now on, you don't need to be a pro to trade like one.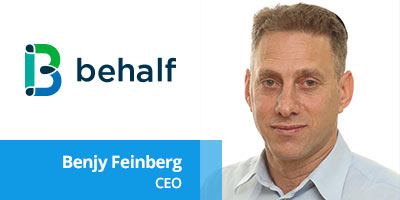 Behalf is a financing provider that facilitates commerce between business to business vendors and their small and medium business customers. Driven by data and technology, Behalf allows vendor partners to offer business customers instant credit and flexible payment terms at the point of sale. Once qualified, Behalf customers can use their credit facility to fund purchases with virtually any vendor, including businesses on the MasterCard network.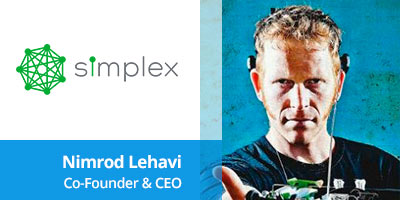 Simplex enables crypto currency businesses to accept credit cards at no charge back risk.
This is achieved by utilizing our fraud analysis and risk management fraud detection years long experience and domain expertise along side unique understanding of the crypto currency protocol in its context.
The solution expands the total addressable market of bitcoin related services by orders of magnitude while accumulating priceless user and identity data associated with the pseudo anonymous environment.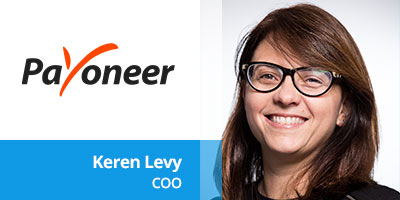 Payoneer empowers global commerce by connecting businesses, professionals, countries and currencies with its innovative cross-border payments platform. In today's borderless digital world, Payoneer enables millions of businesses and professionals from more than 200 countries to reach new audiences by facilitating seamless, cross-border payments. Additionally, thousands of leading corporations including Amazon, Google, Airbnb, UpWork and Getty Images rely on Payoneer's mass payout services.
With Payoneer's fast, flexible, secure and low-cost solutions, businesses and professionals in both developed and emerging markets can now pay and get paid globally as easily as they do locally. Founded in 2005 and based in New York, Payoneer is venture-backed, profitable, ranked in the top 100 of Inc. 5000's Financial Services companies, and was awarded a spot on the 2017 CNBC Disruptor 50 list.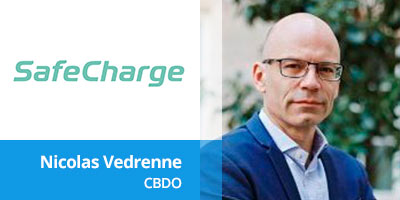 SafeCharge International Group Limited (LSE: SCH) is the payment service partner for the world's most demanding businesses. SafeCharge provides global omni-channel payments services from card acquiring and issuance to payment processing and checkout, all underpinned by advanced risk management solutions. This fully featured proprietary payment platform connects directly to all major payment card schemes including Visa, MasterCard, American Express and Union Pay as well as over 150 local payment methods. With offices around the world, SafeCharge serves a diversified, blue chip client base and is a trusted payment partner for customers across a range of vertical markets. The company has been listed on the London Stock Exchange AIM market since 2014.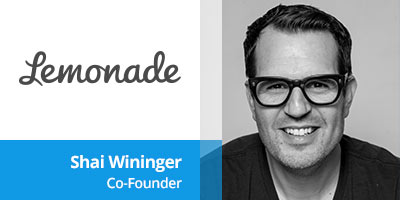 Lemonade Insurance Company is a licensed insurance carrier, offering homeowners and renters insurance powered by artificial intelligence and behavioral economics. By replacing brokers and bureaucracy with bots and machine learning, Lemonade promises zero paperwork and instant everything. And as a Certified B-Corp, where underwriting profits go to nonprofits, Lemonade is remaking insurance as a social good, rather than a necessary evil.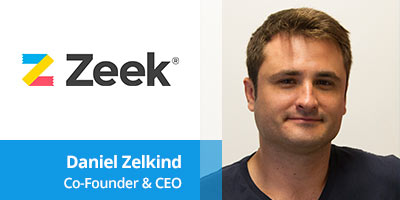 Zeek is a marketplace for consumers to buy and sell gift cards. Savvy shoppers enjoy face value discounts on hundreds of leading retail brands, and those with unwanted gift cards can quickly and securely turn them into cash or exchange them for a preferred brand.
Partnering with over 100 leading retailers, Zeek has pioneered the sale of discounted branded currency in Europe, providing retailers with a new solution for distribution, acquisition, customer loyalty and insight. As well as highly regarded website and apps, Zeek has built world class anti-fraud technology to regulate and protect secondary market resale.
A thriving consumer marketplace has opened up multiple opportunities to build more B2C and B2B pre-payment solutions on-top. For example, Zeek recently launched its own Zeek Choice currency, providing a solution for corporate rewards and recognition, consumer gifting and earned value payout.
Launched in 2015, Zeek has a team of 60, with offices in Tel Aviv, London and Berlin. The business is venture-backed and grew 3x year-on-year in 2017, with vibrant marketplaces in both the UK and Germany and plans for further European expansion.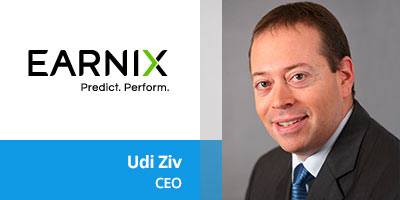 Earnix provides advanced analytics solutions designed for the financial services industry, which deliver significant results by integrating data-driven decision-making into the business process. We enable financial institutions to better compete in a new environment of highly personalized services by using advanced analytics to determine pricing and other offer components. Our integrated technology platform provides users with the most comprehensive set of tools, including machine learning capabilities, and is often connected to real-time production systems. Earnix has extensive experience providing solutions to the most sophisticated insurers and banks around the globe, and has a track record of empowering executives to act quickly and confidently, making a direct and measurable impact on their key performance indicators.
NOAH18 Tel Aviv Connecting Israel's Startups with Large Corporates and Investors
13 - 14 March 2018
Learn More
Register Now